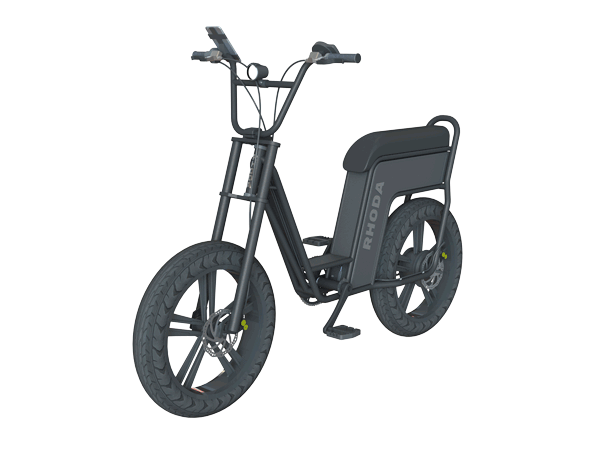 Our online Configurator is now LIVE!
Simply click the button to get started
Order your RHODA now!
starts at Rs. 339,000 including credit card installments.
The RHODA AT
ALL TERRAIN
Aimed at commuters and thrill seekers alike the RHODA AT has been designed to make every journey as comfortable, exciting and fun as possible.
With the traffic in Sri Lanka's cities becoming increasingly congested and polluted, the switch to emission-free transportation is more pressing than ever. With its powerful electric motor the RHODA AT literally takes the sweat out of getting about, and a maximum range of 60kms on a single charge means there's capacity enough for the commute to work, a trip to the supermarket, catching the sunset over the ocean and then heading home.
Power
The RHODA AT comes with electric motor powered by our battery pack. With five levels of assist and the amazing cruise mode you'll be sure to find your sweet spot.
Range
With more than enough range for your daily commute the Rhoda AT is the ideal way to get to and from work.
Safety
Front and rear lights are included with every bike, and connected to your smartphone through the Rhoda app. Switch them on and of from the safety of your phone.
Security
We have designed a custom locking system that is built right into the frame and connected to the Rhoda smartphone app. Unlock and lock your Rhoda from the palm of your hand
Convenient
Augments Life
Easy To Learn, Easy To Ride
Throttle and Pedal
Start Riding Today
No Registration or licenses
Enough Charge for a Day!
Office commute + Errands + Chill
Powerful To Ride Anywhere
Ride steep, Sandy or bumpy roads
Smartphone Access
Never forget "The Keys"
Faster Than Traffic
19km/h average trip speed (1000Km test)
Tech Specs
AT
AT SS
Frame
Steel
Stainless Steel
Finish
Matt Black / Flat White
Mirror Finish
Tyres
4" All Terrain
Build
Splash Proof
Ride Modes
Pure / Power Assist* / Cruise**
Range
60km* / 30km**
Top Speed
25km/h
Display
Smartphone HUD
Full Charge
4 Hours 0.5 LECO / CEB Units
License & Registration
None
Helmets
Not enforced. Recommended by Rhoda
Rhodie Height
4'10" - 6'2"
Capacity
100kg
Warranty
1 year
Features
Biometric Authentication Cruise Control Integrated lock Integrated Lights
Sensors
Hall Effect Bluetooth
Pricing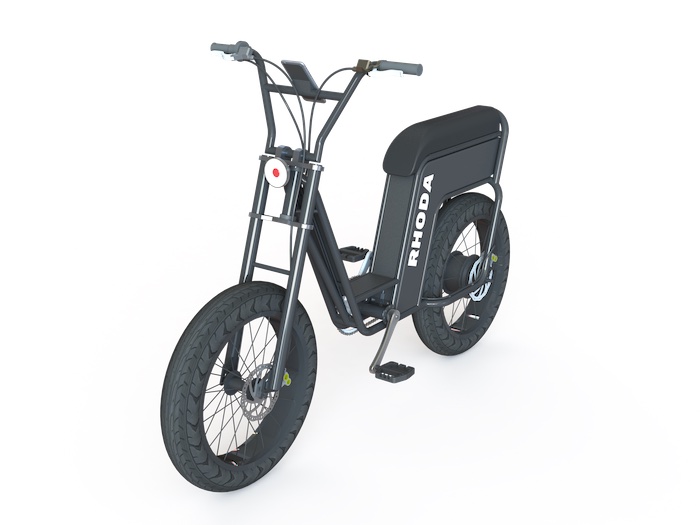 RHODA AT
Cold Rolled Steel
Matt Black / Flat White
4" All Terrain Tyres
Splash Proof
Speed up to 25km/h
Range up to 60km
4hrs Full Charge
.
Rs.339,000
Test Ride
RHODA ATS
Stainless Steel
Mirror Finish
4" All Terrain Tyres
Splash Proof
Speed up to 25km/h
Range up to 60km
4hrs Full Charge
.
Rs.379,000
ATS Founders Edition
Stainless Steel
Mirror Finish
4" All Terrain Tyres
Splash Proof
Speed up to 25km/h
Range up to 60km
4hrs Full Charge
Custom Printed Mural
Rs.379,000
Sold out
We take 80% Downpayment & 90 Days to Deliver your RHODA
Click through the dots to see the delivery schedule
Personalize and place the order of your RHODA through our online configurator
Confirm order with an 80% downpayment through cash or card
Eagerly wait for 90 days for your RHODA to be prepared, spread the word till then.
Create memories by exploring nature knowing that you are not a burden to mother earth anymore!
Please note that all timelines for delivery are subject to change without notice due to the ongoing economic situation in Sri Lanka. We thank you for your patience and understanding.
We have paused orders for RHODA Electric Smartbicycle!
please register for a test ride through the link at the bottom of the page, and we will resume taking orders soon.
Configure your Order